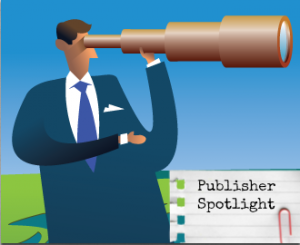 The investment world moves at lightening speed.  For an investor, great content is any information that helps make money or prevent losses.
Professional and individual investors follow James Taulman's The Sunday Stock Report (sundaystockreport.com) for precisely this reason.  His subscribers rely on him for original stock research and timely news alerts.
James wears many hats to accomplish his mission of helping investors — balancing research and writing with many other roles each day.
With this "publisher spotlight", we examine the various content strategies a niche publisher uses to create value for his readers.
The Challenge of Content Creation for The Sunday Stock Report
For the editor and publisher of a subscription-based investment site, putting out timely and quality information for subscribers is paramount.
Publishing challenges:
Update readers on stock price movements for roughly 30 "break out" companies, and relevant investing news.
Communicate new information that may impact the price of a particular stock in real time , as well as periodic in-depth analyses on investing strategy.
Provide daily insights to create value for his subscribers – both on his website, and through other channels.
Sunday Stock Report updates are based on data from multiple sources, including investors.com, the online financial news site from Investor's Business Daily.
Particularly in this corner of the investing universe, long-form content created well in advance of publication is of limited value. He must publish with the speed of the markets.
Adding Republishing and Article Curation to the Content Mix
On one of his visits to investors.com, James discovered our republishing service repubHub quite by chance.
With a random click of the "license" button at the bottom of an online article, James discovered that he could republish articles from IBD for free, in their entirety, on his own website. IBD monetizes this republication by inserting ads into the republished version.
This opened the door to a new form of helpful content for SSR's readers.
How Curating Articles Adds Value
Mr. Taulman republishes articles from investors.com, when he deems them relevant and useful to his site visitors.  Here's why this works well for SSR:
One of the features of his website is a unique web page for each stock he follows.
In addition to technical charts and insights on a particular stock, he now adds entire articles from IBD right on that web page, as desired.
Having all the information related to a specific stock in one place helps his readers keep up to date on that stock, and overall, creates an excellent information experience.
Summary: Entrepreneurial Publishing, a 24/7 Challenge
We hear from so many entrepreneurial publishers that managing a publishing enterprise is an all-encompassing job. Day and night, they search for just the right information to bring their readers – an even greater challenge as publishing deadlines loom.
Here's how republishing helps SSR:
Republishing articles sourced from a reputable publication helps to position The Sunday Stock Report as a source of trustworthy information, a smart move for branding.
Republishing can be accomplished with one or two clicks — less effort than creating original long form content.
Most importantly - carefully curated content provides value for his readers, who appreciate the convenience of getting curated stock information all in one place, in addition to his unique insights.
repubHub has become a useful tool that helps this busy publisher keep his readers up to date and make better investing decisions.
[NOTE: Follow James at @jamestaulman on Twitter]
Try repubHub: Article Curation and Republishing For Your Online News Site

Free eBook: Learn from Your Publishing Peers!
Download our eBook filled with content strategies and insights from online editors, bloggers and content marketers on the cutting edge.