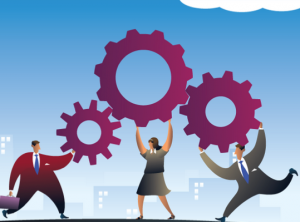 Recently, there was big news from Google that impacts all content marketers.
Google has changed the way they report website data, and is encrypting ALL searches. Yahoo and Bing are still providing this data, but Google has decided not to.
Google's Hummingbird update has caused quite a stir among marketers.  They will no longer be able to see the words people searched before landing on their websites. 
It's a little like flying blind … you can't see clearly, so have to rely on other instruments.
But, while Google may have changed the playing field, content marketers still have a big content strategy toolkit to engage online communities.
Marketers can still write about what matters to their target audience.  After all, it's the TOPICS readers care about, and the solutions marketers provide haven't changed.
Content Strategists and Keyword Research in a World of 100% Google Encryption
With Google's recent " change, keyword research for planning content and analyzing results does change.  There will be less focus on reverse engineering content based on trying to outsmart a Google algorithm, and more on figuring out how to provide your community with information that matters.
Should folks ignore keywords?  No, not at all.  Successful writers, publishers, and marketers have always focused on their audiences' needs. If they continue to do that, the SEO will take care of itself.
Having said that, here are some best practices on how to work with keywords going forward:
Look at how people search in aggregate, and the competitiveness of search terms.
Marry that information to target personas when planning content
After the fact, look at lead generation and conversion to measure the results.
Perhaps start a small PPC campaign, to get a peek behind Google's encryption.
In a way, what Google does or doesn't do really doesn't matter.  Keywords were always a means to an end … the tools one uses have changed, but the fundamentals of connecting with and persuading target audience has not.
Back to Content Strategy Fundamentals
The need for great content has never been greater.  Creating and marketing great content is still a competitive advantage.  Those who focus on content strategy fundamentals will succeed.
As before, understand your target personas, and use content to engage that person to arrive at a business result.
Continue to create original content, and share it among your target communities on the social web.
Become a thought leader in your niche, by curating and republishing awesome content by others.
Original content, content curation, and content reuse are all parts of the same content strategy equation — the process for engaging our target audience hasn't really changed.
This was, and is, still critical to success.
Bottom Line: Where Do We Go From Here?
Use all the tools in your content marketing toolkit, to engage your community: text, rich media … use it all.
Continue to create great content.
Republish content with context, to add value on topics your community is interested in.
Repurpose, reuse, syndicate, repost … content is labor intensive, so use all these techniques to build efficiency into the mix.
Continue to interact and engage on social networks, with content-based thought leadership in your niche.
We think this is actually good news for writers, bloggers, publishers and marketers. What say you?
Has Google's change impacted your content strategy at all? Do you have favorite tools to make your life as a content strategist easier? What will you change or do differently to build your online presence?
Make Your Content Strategy Work Harder: Try repubHub
Content strategists, would you like to get broader distribution for your original content?
We'd like to invite you to contribute your content to repubHub. It's free to join-and adding our toolbar is easy. It can be installed in under a minute with our WordPress, Drupal, or other CMS plug-ins.
repubHub can also serve as a great source of republishable content for your site.
We hope you'll take a moment to, currently in beta (link below), and let us know what you think.