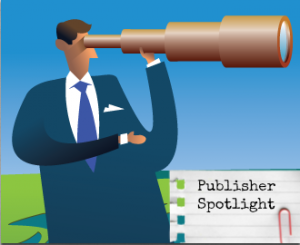 The Southern Arizona News-Examiner (soaznewsx.com) has been reporting local and regional news in and around Tucson and Southern Arizona since.
With so much digital content vying for the reader's attention, how did this particular news weekly carve out an audience in a short period of time?
And, how do they continue to cover a wide range of topics for their readers, with a small editorial team, and limited time and resources?
In this "publisher spotlight", we'll look at 5 key factors that make this online news site successful.
1. A Strong Editorial Voice
In publishing, knowledge of your readers is critical.
With prior careers in publishing, politics, and media, Editor-in-Chief Emil Franzi already had a clear understanding of what resonates with their audience.
Building on this knowledge, Mr. Franzi and Managing Editor Harry Alexander carefully curate content with a clear editorial "voice" from sources that reflect both their political sensibility and the center-right politics of their readership.
2. Building an Audience With Niche Content
The publication's success is also due to creating content that captures readers interests, and keeps them coming back for more.
Twice a week, a small team of contributors reports on local news, sports, business, and lifestyle, familiar topics for local journalism.
To this core, they add unique content geared to local interests — for instance, "The Fat (local "buzz"), Opinion, Political Cartoons, and a special section called "The West" which spotlights Western heritage.
This content mix – derived from both locally originated reporting and syndicated sources — strongly caters to their readers' interests.
3. Third Party Content Sources Add Editorial Firepower
Whereas some regional publishers might get by with one or two wire services, The Southern Arizona News-Examiner casts a wider net, making excellent use of third party content.
Sources include The Christian Science Monitor, various nationally syndicated columnists, and more.
This enables them to deliver a broader mix of national and international stories that further resonate with their audience.
4. Discovering repubHub: A New Way To Curate Content
Franzi and Alexander were already syndicating content from the Christian Science Monitor and other trustworthy sources, when the desire for content from new sources led to the serendipitous discovery of our content network, repubHub.
repubHub added another way to publish content that is in synch with their readership.  Once they discovered the ability to republish stories from additional publications like the Washington Times and UPI at no added cost, they began to use our portal to curate and republish a wider array of articles to broaden the perspectives they could offer their readers.
Republishing stories has become a regular part of their content mix.
5. Tracking Metrics: Traffic, Clicks, and Audience Growth
Alexander noted that when it comes to measuring traffic, it seems to make no difference where an article is first published.
According to their Google Analytics metrics, when content is interesting to readers, both original, and republished content does well with their audience.
Conclusion for
Niche Publishing News Sites
The Southern Arizona News-Examiner succeeds in filling a unique market niche, built on a deep understanding of reader interests, delivered with a strong editorial voice.
They leverage a lean staff with a unique set of tools and talents — notably:
the smart use of columnists and contributors
unique sections like "The West" which resonates regionally
well chosen national and international stories from third party sources
the re-use of ad supported, free content via repubHub, to extend budgets.
If you publish with a lean staff, having ready-to-go content options, paired with a clear editorial voice, can make all the difference.
Note: Find the team from soaznewsx.com on twitter (@soaznewsx ), and tune into Inside Track, Mr. Franzi's weekly radio broadcast.
Try repubHub: Article Curation and Republishing For Your Online News Site:
A world of republishing possibilities, at your fingertips.  Simple, fast, legal … and (mostly) free.
Free eBook: Online Publishers Share 7 Growth-Oriented Content Strategies
Learn from your online publishing peers. Content strategies and insights from online editors, bloggers and content marketers on the cutting edge.  Download now!