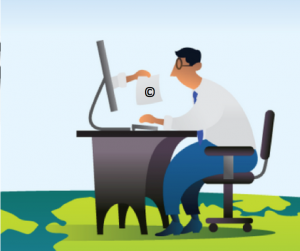 If you write a blog, sooner or later, someone will want to reuse your original content.
Encourage readers to reuse your work with permission, by adding a clear and visible copyright policy to your blog.
First Things First:  Your Blog is Already Protected By Copyright!
It's easy to have questions about copyright.  If you are not a lawyer or copyright expert, you may wonder what steps to take to protect your work.
As was recently pointed out to us by Jonathan Bailey in the comments below, even our original headline, which might have scored points for brevity (but has since been updated), needed some clarification:
Before:  How to Copyright Your Blog in 3 Easy Steps
After:  Blog Copyright: How to Protect and Deter Misuse of Your Work!
As J.B., pointed out, "Copyright is given to a work the moment it is fixed into a tangible medium of expression".  What this means is that as soon as you write and publish your blog, your work is protected by copyright.
But there is more you can, and should do.
Making that protection and the terms of reuse crystal clear, will deter others from using your work without permission.
How To Better Communicate Your Blog Copyrights, and Deter Misuse, in 3 Easy Steps
There are 3 steps you can take, to make your copyright protection, and terms of reuse, more clear.
Here's a simple, 3-step process:
1.    Add a copyright notice to the footer: 
Your blog is protected by copyright, even if you don't have a visible copyright notice. But, having one provides an added benefit:  it reminds others of their legal (and moral) responsibilities when it comes to reusing your content.
At a minimum, the copyright symbol and notice should be part of the universal footer of your blog, visible at the bottom of every page. For many bloggers, this will already be part of your blog's theme.  If it isn't, add it.
A sample copyright notice can look like this:
© [Your Name] [The Year] [Rights Clarification].
For more on the 3 elements of a copyright notice, read  "How To Write A Copyright Notice" by Jonathan Bailey, author of Plagiarism Today.
2.  Decide on your "Terms of Use": 
Is your online content free to reuse?  By whom?  How much?
Decide how you want others to be able to reuse your content.  You may be happy to allow others to excerpt or republish it, as long as you receive the proper attribution and a link back to your site.
Or, you may want to monetize your blog content, and license it for commercial uses, according to rules that you set.
Be very clear about your terms of use.  Let people know what you require, and make it easy for them to comply!
3.  Add a detailed copyright policy to your blog:
A copyright policy gives you a place to explain specifically what reuses you'll allow, and how people can go about gaining permission.
Why is it necessary?  Because a copyright notice in your footer is easily overlooked, and doesn't provide needed details for your reader.
When it comes to a copyright policy, the more detailed and prominent, the better.  Write one, and then post it visibly on your blog.
Note:  the FREE iCopyright Toolbar comes with a default Terms of Use page, easily editable by you, saving you the work of creating one from scratch.
Digital Copyright Tools:  Copyright for a Digital World
Adding a copyright notice and policy to your website or blog is no guarantee that readers will comply.  They may not see it …  or just copy and paste as a matter of habit.
Or an automated bot might scrape your RSS feed.
Instead of relying on readers to proactively read your policy, or going after scrapers after the fact, a digital solution, such as iCopyright's free plugin, can help.
Digital copyright tools make the process of giving permission to republish your content automatic and seamless …  instantly adding an extra layer of protection for your online content, on every post.
To see how the iCopyright Toolbar works, watch a quick video or check out the toolbar and interactive copyright notice on top and bottom of this post.  
P. S.  Free Ebook:  The Blogger's Guide to Copyright Protection
If you would like to learn more about how to copyright a blog, you might be interested in our free e-book.  It goes into more depth about how to protect your work, and what to do if your content is used without permission.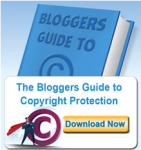 The good news?  Most people will respect your copyrights, if you let them know how.
Do you have other questions about protecting your content, or growing and monetizing your blog?  Do you have a story of someone infringing your copyrights? Let us know in the comments!