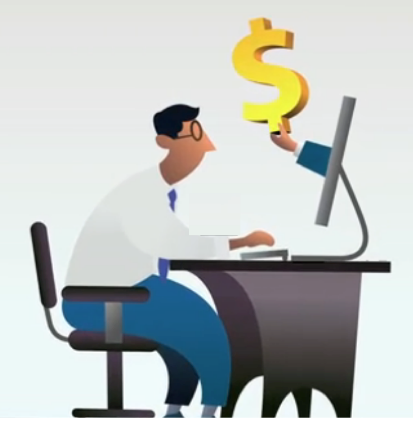 Blogging takes incredible discipline and hard work.
Leading blogger Chris Brogan  (@chrisbrogan on twitter) famously wrote that it took him eight years to get his first 100 subscribers!
Learning how to connect with readers, and attract a following may be the hardest part.  But sooner or later, if you stick with it, you'll find where your voice and audience intersect.
Once you do, another challenge appears on the blogging horizon:
… creating a profitable online business model for your blog.
The Evolution of Your Blog
When you're just starting out, you're thrilled that anyone at all notices your content.
You study the craft of writing the perfect headline and of blog SEO. Guest posts and double-digit comments seem like a distant goals. You've heard about online piracy and copyright infringement, and wonder what the fuss is about. After all, you're perfectly happy just to be noticed!
Gradually, people start to comment, your readership stats grow.  With increasing traffic comes the confidence that your online content has value, and eventually, awareness of the need to treat your content as you would any other business asset.
Yes, your blog has evolved. Now it's time to evolve your business model.
Online Technology:  Sophisticated Tools for the Little Guy
You work hard to create consistently great content, and that comes at a cost. Simple attribution and links back to your site can't pay the increasing expenses of consistently turning out what's becoming a professional-level blog.  Fortunately,  online technology has created a powerful opportunity for smaller content creators:
Self-publishing puts control as well as a revenue in the hands of authors.

Technology has placed a wealth of monetization tools in the hands of bloggers, too.
With the proliferation of tools, comes the question: What's your plan to derive monetary value from your efforts?
How To Monetize Your Blog:  Tools of the Trade 
For many, "exposure" gets monetized indirectly – through some combination of advertising, affiliate sales, and sponsored posts, of selling products and services, consulting, speaking, selling books.  Let's take a look at each, one by one:
Advertising:  If you have significant traffic you will be able to attract sponsors to buy banner ad space on your blog. Or you can obtain a Google AdSense account and have Google place ads on your blog based on relevant content topics. Revenues are based either on impressions or click-thrus.
Sponsored Posts:   These are the digital world's version of advertorials. They are blog posts or other editorial-type content that can appear as a guest post and where the author has paid to have it posted. Paid reviews, and sponsored posts can pose credibility risks.  Work best when the blogger has great integrity and respects the trust of their audience.
Affiliate Sales:  You capitalize on the trust that you audience has in your recommendations to mention and promote other people's products and services on your site … and earn commission revenues from sales that result from your efforts. Most reputable bloggers disclose affiliate relationships when they promote a product or service.
Your Own Products and Services:  If you're a published author or you get paid to consult or speak to groups, you can use your site to sell your books and services. Many bloggers create online products, as well.
Email Marketing: You may have heard it before —  the marketing gold is in your email list.  Use your blog content to attract subscribers and get opt-in, then email to offer products and services. 
 Republishing and Syndication:  Once you figure out the conversion model on your site, attracting more traffic becomes important.  Syndication for small publishers can be an effective traffic builder.
Darren Rowse wrote a great related post on this topic last week:  12 Blogging Income Streams (And the Story of My 10 Year 'Overnight' Success).  Definitely worth checking out!
The Business Model Charles Darwin Would Use
(if Darwin Had a Blog)
In addition to what's been listed above, we believe that the natural evolution of a blog points to a content model that has yet to come into its own among smaller publishers:  make your blog "license friendly."
"License friendly" means allowing your content to have a second life away from your blog. With the right tools in place, your content can be republished with your permission, easily and automatically, and you can profit from that.  More on how instant licensing works, in our next post.
 Please share your own experiences:  how do you monetize your blog?