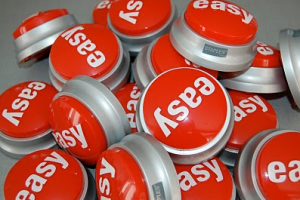 Publishing content that your audience wants to read and will benefit from doesn't have to be hard.
That's the message we hope to illustrate by republishing an article from On Wall Street (see below).
In the article Content Marketing Tips for Advisors, author Dave Grant outlines his content marketing strategy, and provides helpful examples for fellow financial professionals.  Dave shows how he tailors his activities to resonate with teachers, the niche market targeted by his financial planning firm.
Content Marketing Tips: Article Curation and Republishing
Dave's article is just the type of content our audience will find helpful — so we are republishing it to demonstrate our content strategy "tip" for financial bloggers and publishers:  content curation and republishing.
The basis of republishing as a content strategy is simply this: there is content that your audience would find valuable, conveniently enabled for reuse.  In addition to creating original content, the ability to republish is another way to bring helpful information to your audience.
While we could have written an original article on content creation for financial planners, why not just share his?  So we did — for less than the cost of a mocha frappuccino, and in far less time than it would take to drink it!
Content Sources for Financial Professionals
The good news for financial writers is that there is an especially rich source of republishable content, including market commentary, current events, and more in our republishing network.  repubHub has articles from leading publishers like Investor's Business Daily, the Financial Post, On Wall Street, and many others.  Some are offered free (ad supported); others, like the article below, are available at a cost set by the publication (the article below cost us $5 to republish).
To see how other financial professionals have used this strategy, check out these links:
1.  Portland, Oregon portfolio manager Joel Fishman incorporated this strategy on his boutique investment firm's blog "Buy When Prices Are Cheap." Here's an article from Financial Planning Magazine that he republished: The Easy Way to Buy Low.
2.  Our Publisher Spotlight series highlights how two financial publishers, the Sunday Stock Report and ValueWalk, make excellent use of republishing to serve their readers.  Content ranges from investing updates on specific securities to economic news.
3.  We recently wrote a guest post on republishing as a content strategy for financial advisors, published on the Contentmarketingexchange.com blog.  To read more about the benefits of republishing as a content creation strategy, check out:  Republishing: Content Creation Help for Financial Bloggers.
4.  Of course, enjoy Dave's excellent content marketing tips, below!
We hope you'll try our convenient and easy to use republishing network, repubHub!
Free Checklist: 
Are you looking to 
increase traffic, readers and revenues?
Download our checklist, "Curating Content, The New Art of Republishing", to learn 
how to ease your workflow, expand your reach and reinforce your editorial vision through a content strategy that adds 
curation and republishing to the mix. 
Content Marketing Tips for Advisors