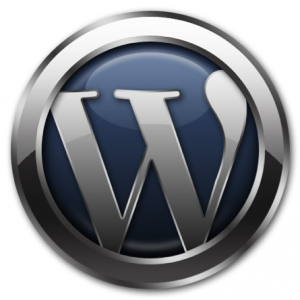 WordPress publishers, take note.
With the latest version of the iCopyright Toolbar plugin for WordPress, curating and republishing online content just got easier.
The newest version of the plugin puts iCopyright's repubHub content licensing network at your fingertips, integrating content you can republish right into the Posts menu of your WordPress dashboard.
What's New, In a Nutshell …
The newest version of the plugin enables republishing of high-quality articles from a wide range of respected sources, including Investor's Business Daily, International Business Times, UPI.com, Newsweek – and many others.
This upgrade enables WordPress publishers to:
Search by keyword on topics of interest
Set up tab-organized feeds,
See fresh articles on your preferred topics, as they're available
Republish with just a few clicks 
…  right from your Posts menu of your WordPress dashboard.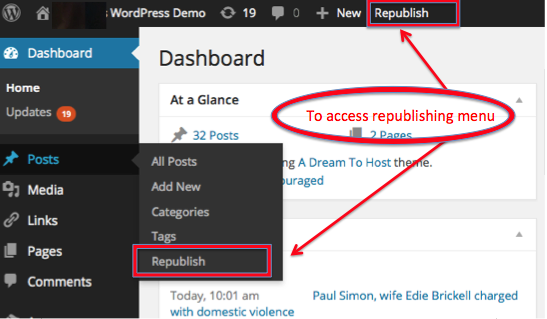 Why Republish?
Great content is an essential component of many websites. Expert curation and republishing is a great way to supplement original content, serve readers and take the pressure off of your editorial workflow.
Benefits include:
A quick and easy way to meet readers' needs for topic-specific content without having to write and research original articles, extending your resources.
An inexpensive (and often free) way to reuse other people's content on your site with permission.
More engaged readers — readers of republished content stay engaged on your site for longer when they don't have to leave to read external links, unlike content curation via external linking.
Expanded options for credible and timely content offerings, from a vast database of 9 million articles. repubHub receives 3,000 fresh articles a day from major publishers.
How to Install the iCopyright WordPress Plugin and Set Up a Feed
Here's how to get started:
To Install the Plugin:
Open your WordPress dashboard
Select the "Plugins" menu and search for "iCopyright" to find the iCopyright Toolbar plugin
Click "Install now" and "OK" to install the multi-functional iCopyright Toolbar
Click "Activate"
Click "Agree" to indicate acceptance of the terms of use
To Search for Content, and Begin Republishing

Once you've installed the plugin, simply click on the "Republish" link in the top of the WordPress dashboard navigation OR click "Post" and choose the "Republish" option, to get to the repubHub search bar.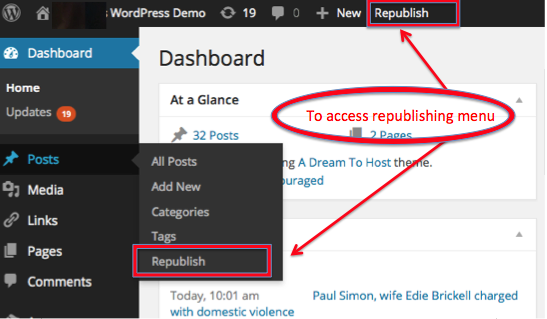 You'll find a list of recent headlines from across the repubHub network displayed below the search bar.  Any of these articles can be republished with just a few clicks.

To Search for New Topics:
This search bar can be used in two ways:
To find articles on any topic to republish immediately.
To create feeds of fresh content based on your interests. New articles are automatically displayed in separate topic tabs below the search bar.
Simply enter a keyword into the search bar.  A list of relevant articles will be returned, which you can read and choose to republish by clicking the green "Republish" button.

A feed of new content will be created automatically for that search term and displayed each time you return to the Republish page.

To Manage Your Feed/Set Up Topic Alerts:
Keywords and feed frequency can then be updated by clicking the "Edit Topic" button. There you can also opt in or out of periodic email alerts when new content is available on your topics.
Once you set up topics that are relevant to your site and readers, you'll begin to receive regular updates of properly licensed articles from leading publishers that fit your needs.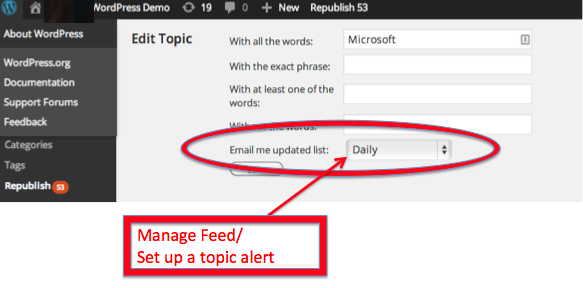 Other Republishing Features

The plugin also lets you customize headlines and lead-ins to support your editorial voice (shown below).  This is a great way to add context for your readers, differentiate republished content and increase audience engagement.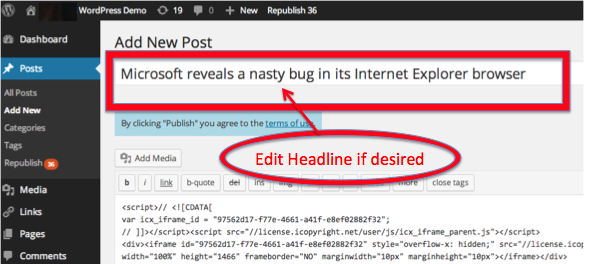 Syndicate and Monetize Your Original Content Too
When you deploy the iCopyright Toolbar plugin on your site, your own original content is instantly added to the repubHub network of license-ready content, too.
By offering this republishing option to other online publishers, you can unlock a new source of revenue for your content.
Learn how to syndicate your content using the repubHub content network, so that other publishers can easily obtain the rights to embed your content. Read More:  3 Ways to Get the Most Out of Online Content Syndication Services
Get Access To This New Plugin Today
Get ready for more quality content, more engaged readers, a larger readership, and new revenue streams. Download the WordPress Plugin now, to access the power of republishing and join the iCopyright republishing network!  

 We want to hear from you!
Is republishing a part of your content strategy? Are there other features you'd like to see in future updates?  Please comment below to provide feedback, or leave a review over on WordPress.  Thanks for the feedback!
Free eBook: Need more content in less time?  
Learn whether 

a content strategy that includes

 

republishing

 

quality content

 

for your readers 

is right for your site. 

This Q&A

 helps you ask essential questions for 

your website or blog. Download now!