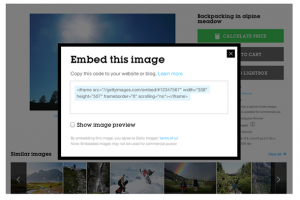 Last week, Getty Images, one of the world's largest rights-managed image databases, made a dramatic move.  They made 35 million images available for free embedding for non-commercial use.
The article below provides further details on Getty's announcement.  It has been embedded here from UPI.com via our new republishing network, repubHub.
This strategy is new for Getty, but not new for the web.  It shares many similarities with the way our repubHub content republishing network helps publishers monetize and safely distribute their content, and has long been used by YouTube.
Let's look at why free, embeddable ad-supported online content is a business model whose time has come.
A Legal, Free Way to Use Copyrighted Content

By their announcement, Getty is essentially seeing free, non-commercial use as a potential lead generator for paid commercial use of content they own the rights to. There is also the possibility of monetizing the free uses at some point in the future with ads.
The approach may also help Getty to better focus anti-piracy efforts by distinguishing between commercial and non-commercial use. It also provides a new way for both commercial and non-commercial users to legally license high-quality images.
Getty's ultimate goal is to create new sources of revenue for content creators by making content more easily shareable and discoverable while ensuring the content is properly attributed and used appropriately.

User-Friendly Embed Technology 
Embed code for Getty's content library will now be offered for non-commercial posts on Twitter, Tumblr, and WordPress.
This system of free embeddable content has become the de facto standard for reuse and monetization of digital content across the web.  Why?  It's easy, cost effective, and user friendly.
As is the case with YouTube and repubHub, this embed and iframe technology benefits the content owner by adding automatic attribution and a link back to the originating site.
Increased Online Content Monetization Opportunities
This "embed economy" creates new value by creating ways for both the creators and Getty to monetize content assets.
Getty's announcement suggests the future possibility of embedding ads to generate revenue … just as YouTube and repubHub do now.  But even without that form of monetization, the addition of links and attribution is a win for photographers whose content has been frequently pirated.
For some, this new model raises questions:
Will participating photographers make more money longer term via increased exposure and traffic?
Will a way to legally license images stem the tide of infringing behavior that has been common on the web?
Will users of this new arrangement embrace the future use of embedded ads in exchange for free images?
We think this is the way other forms of online content will increasingly be shared online … but what do you think?
Leave a comment … and enjoy the article!
Try Repubhub!
repubHub offers free or low-cost republishing of content by well-known publishers like International Business Times, Newsweek, UPI.com and many others that are part of the network. Visit now to find stories relevant to your audience.
Free eBook: Learn from Your Publishing Peers!
Download our eBook filled with content strategies and insights from online editors, bloggers and content marketers on the cutting edge. 
Millions of Getty images now available for free via embed tool
Free eBook: Online Publishers Share 7 Growth-Oriented Content Strategies
Learn from your online publishing peers. Content strategies and insights from online editors, bloggers and content marketers on the cutting edge.  Download now!