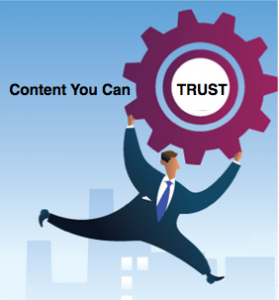 In a recent B2BContentmarketing post, Michael Brenner quoted a study that confirmed what we already knew, but hadn't quantified: credible third-party content is an important part of a well-rounded content strategy.
This is an important piece of news - especially for those content marketers who have maintained the belief that the only valuable content is original content.
In his article, Michael shares the results of research conducted by the Chief Marketing Officer (CMO) Council, entitled The Content Connection to Vendor Selection. In Business Buyers Relying More On 3rd Party Content, he writes:
"Buyers are increasingly reliant on trusted third-party information to make more educated decisions."
He shares some of the key findings of a study of over 352 business buyers, that highlights the types of information B2B decision makers increasingly rely on.
Persuasive content falls into 5 basic categories.  The most sought-after types include:
1.  Comprehensive industry/category surveys and studies (52%)
2.  Technical details about products and solutions (44%)
3.  Analyst reviews or recommendations (43%)
4.  Expert-originated content with supporting facts and research (35%)
5.  Content published by third-party sources (35%).)
If buyers are seeking these 5 types of content for decision making, how can we produce credible content along these lines?
B2B Content:  The Source is Important
According to this study, the source of content clearly relates to its perceived value and trustworthiness. B2B buyers prefer to rely on content they consider independent and objective — also known as third-party content — to help them stay up to date and solve business issues.
It can be challenging to create this kind of content, but here's the good news:  YOU don't have to create every piece of content you share with your audience.  Indeed, it is probably better if you didn't. Many publishers have timely and relevant third party articles featuring issues, solutions, best practices, trends, studies and research that you can easily integrate into your site.
For instance, a benchmark category study on women motorcycle riders was recently conducted by Harley Davidson, and a motorcycle gear company benefited by republishing this important and timely piece of category information (described in our Publisher Spotlight: Brand Journalism — Where To Find The Perfect Story?).
How to Add a Third-Party Content Strategy
Fortunately for B2B content marketers, there's an easy and low-cost way to discover and republish credible third-party content.
Visit a third-party content network like repubHub, to search for articles from leading publishers on topics related to your niche.
Sign up for a feed based on search terms that are important to your industry, so that the results are delivered to you on a regular basis.
Check the feed periodically; when you discover a relevant article, don't just share the link … republish it on your site.
Introduce the article:  Simply explain why you're sharing it, and why your prospects should read it.
A final nugget from the study:
92% of buyers frequently use third-party content to maintain a vendor relationship or advocate the use of the vendor's products or services. In light of these study results, can you afford not to add a third-party publishing strategy to your content mix?
Try repubhub!
Become a trusted source of third-party content for your buyers. Discover fresh, free and low-cost articles from leading sources.  Your business will reap the rewards.
Free Checklist: 
Are you looking to 
increase traffic, readers and revenues?