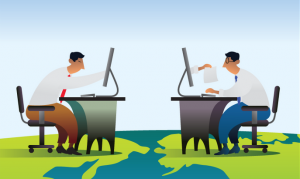 A funny thing happened on the way to crowdsourcing a list of favored WordPress plugins from last week's #blogchat.
Halfway through the 54 page(!) #blogchat transcript, we discovered that there's a lot more to know about plugins than just which ones to install.
As always, some great advice was shared.
Enjoy the tips and tweets below — and remember that for expert advice and spirited conversation on all things blog-related, tune into #blogchat (Sundays, 9-10 pm ET ).
It's a great community.
Plug-in Best Practice;  Don't "Set it and Forget it"
If there's one singular "best practice" when it comes to WordPress plugins, it's this:  your blog needs a periodic plug-in check up.  Here's why:
Too many plugins can slow down your site and use up host server resources.
You need to periodically check for updates.
Multiple plugins often do the same thing; which means it's important to check for redundancy, select only the modules you need, deactivate any you no longer use.
Plugins have a habit of multiplying like rabbits!
While no one can say how many is too many (the sweet spot seems to be 10 – 20) the best advice is to stay "lean", check your site speed, and uninstall those you no longer use.   Note:  How to test site speed after loading plugins:  
Thank you to all the #blogchat participants from whom these crowdsourced comments were drawn.
WordPress Plugins: Best Practices, Tips and Tweets from #blogchat
Below, we've singled out 19 tweets that may answer some of the most common questions about plugins:
Plugins and Security
1.  "Non-updated plugins are a security/malware risk on WP".  — @MichaelCarusi
2.  "You have to do some clean up, trust me, if there is an outdated plugin that you don't use, you'll have a security issue". — @NickKellet
3.  "The more plugins the greater the security risks. Every plugin could be a backdoor to your blog". — @tburgess57
4.  "Delete themes you don't use and update plug-in regularly. Easiest entry points for malware."  — @RobPetersen
Plugins for Building Community
5.  "My favorite new plugin for comments is ReplyMe … generates a ton of engagement, without annoying notifications". — @Kikolani
6.  "A plug-in that automatically live links twitter handles and hashtags saves a lot of time when writing blog posts (Tweet – Tech Debug. — @Casudi
7. "Comment deterrents:  CAPTCHA, sign ins, and moderation".  "Kills conversation." "Disclose moderation before "send". @etiquettemoms, @RobynsWorld, @Wordwhacker
Plugins for Marketing
8. "List of WP plugins to increase lead gen on your blog, recent post on "@tommartin 's blog" – anon.
9.  "When readers get to the bottom of your blog post what else is there for them to do? No dead ends".  — @CTrappe
10. "build a mailing list to update your audience about new posts, strengthening your readership … been sending custom emails through Aweber for certain posts. Engagement for those is high!". - @kikolani
11.  "I have a FeedBlitz signup form for mailing list signups … above the fold!"
  — @patricksplace
Ideal Number of Plugins
12.  "Choosing the right plug-ins is like choosing the right metrics; only need a half-dozen or so". — @RobPetersen
Plugin Administration and Management
13. "Always backup your site before making changes. Then make changes one at a time, including activating new plugins".  — @FabianaLowe
14. "Make sure that you keep your WordPress plug-ins updated and if you have inactive ones, delete them". — @lindasherman
15. "Solid premium WordPress plugins integrate with other products such as MailChimp".  - @lindasherman
16. "Add a caching plugin and maybe a CDN - it'll help with speed ". – @ebarbaric
17.  "I use 'broken link checker' (plugin) periodically & then uninstall. Love it finding broken links for me". – @JPlovesCOTTON
18. "The elephant in the room: the more u handcode & less u use on plugins, the better ur WP site performs".  — @Sandee_Jackson, (via @Kaidez)
19.  "My plugin philosophy: Don't treat them like I treat my iPhone apps (I have dozens I never use!)"  — @robynsworld
Bonus:  Ways to Participate in a Twitter Chat (not plugin related, but helpful to know!) > Tweetdeck for Chrome, Hootsuite, OneQube SmartStream, Twubs, tchat.io".
We hope we've inspired you to take a fresh look at your plugins.   Check out our master list, and let us know if there is anything you would add!
Roll the Credits … 
#blogchat is a great place to learn from other bloggers, discover new blogs to read and great new people to follow (see below)!
Apologies to anyone we may have quoted or paraphrased or missed crediting.  ( Most likely, @collinkromke @brucesallan @joebugbuster @cartooninperson @thatgirlshelley  @doomzTO  @raygordon @armando duran @CoreyFreeman @eProAgi and @hanniespice).
P.S.  Mark your calendar for Sun., 6/23. Special guest: @jaybaer